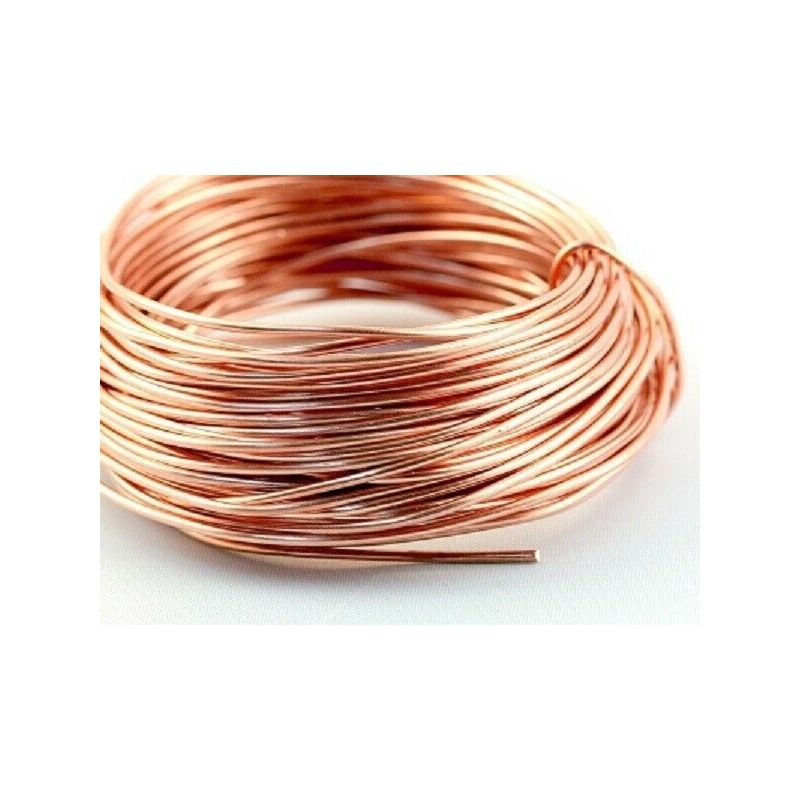  
Copper wire blank Ø0.1-5mm without varnish uncoated Cu 99 craft wire 2-750 meters
Diameter from 0.1mm to 5mm. Length from 2 meters to 750 meters
Areas of application: Hobby area (e.g. model making); Electrical engineering; Handicrafts; Decoration.
EN 13602.
Electrical resistance 0.017 Ω mm² / m; Thermal conductivity 400 W / (m · K).
Didn't find the sizes you wanted? Just contact us! We are happy to help you with your request.
When the wire length is supplied, the tolerance can be +/- 2% of the ordered quantity
Do you need other steel quality or dimensions? Please write to us. Our sales team makes an offer from stock program or delivery program :)
Production time - none. Already in stock.
Shipping preparation - 2-3 working days.
Delivery time - depending on the parcel service. Look at the faq please.
Wire is a thin, long, flexible metal with a circular cross-section. Bare copper wire is made from pure copper and serves as an excellent conductor of electricity and heat. Copper is easy to work with and is valued as a decoration in households because of its beautiful appearance and easy maintenance. Thanks to its excellent mechanical properties, lacquer-free copper wire has found demand in many areas.
Unpainted copper wire is easy to buy in the Evek GmbH online shop. If you have any further questions, please contact us for advice.
Bare copper wire is very elastic, easy to shape and polish. It does not become brittle even at low temperatures. Copper wire without enamel conducts electrical current perfectly and has a low resistance.
Most important uses of unpainted copper wire are:
Hobby area (e.g. model making);
Electrical engineering;
Handicrafts;
Mechanical engineering;
Decoration.
Bare copper wire has the following advantageous properties:
excellent corrosion resistance;
good flexibility;
excellent thermal and electrical conductivity;
good workmanship and malleability;
Insensitivity to low temperatures;
long lifetime.
Evek GmbH offers copper wire without lacquer at low prices. Since we are a reliable supplier for unpainted copper wire, we deliver your orders quickly and easily.
ev_kupferdrahtohnelack-0.1_001-1
Data sheet
Type

wire

material

copper

operation area

Hobby area (e.g. model making), electrical engineering, handicrafts, mechanical engineering, decoration

Material number

2.0065

EN

Cu-ETP

US

CW004A

density

8.93 g / cm³

Melting point

1083 ° C

Thermal conductivity

394 W / m K

Electrical resistance

0.018 Ω mm² / m

Electrical conductivity

57 m / Ω • mm²

surface

smooth (may contain handling or storage tags)
No customer reviews for the moment.